Is Diabetes Mellitus (DM) – Cause of concern for Peripheral Artery Disease(PAD)
Diabetes mellitus (DM) affects more than 170 million people worldwide, and this figure is expected to rise to nearly 370 million by 2030. Diabetes is a major risk factor for all types of cardiovascular disease, which is the leading cause of death in adults with diabetes. Diabetes is also a significant risk factor for peripheral artery disease (PAD), which is defined as atherosclerosis in the arteries of the lower extremities. Patients with DM and PAD are at a higher risk of adverse cardiac and limb events, as well as a lower quality of life. Furthermore, Peripheral Artery Disease causes significant long-term disability in diabetic patients.
An overview of the clinical manifestations, diagnosis, and treatment of PAD in diabetic patients will be provided here, with the goal of providing a detailed summary of this important cardiovascular phenotype, which is associated with a high risk of vascular complications.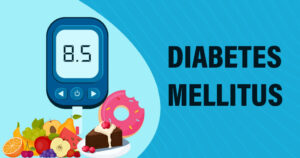 Risk Factors – Diabetes Mellitus
Risk factors — Diabetes is a significant risk factor for Peripheral Artery Disease, ranking second only to cigarette smoking in terms of magnitude of increased risk. In a large, multinational meta-analysis, the presence of diabetes among participants from developed countries was linked to a nearly twofold increased risk of peripheral artery disease.
Diabetes-related — A number of risk factors that specifically influence the occurrence of Peripheral Artery Disease in diabetic patients, such as diabetes duration, diabetes severity, gender, and race/ethnicity, are briefly discussed below.
Diabetes severity – Duration According to one study, each 1% increase in HbA1c is associated with a nearly 30% increased risk of developing Peripheral Artery Disease during follow-up.
Diabetes and patient sex – Based on available data, diabetes appears to be a more significant risk factor for females than males for the development of claudication.
Diabetes and race. People with diabetes may confuse Peripheral Artery Disease symptoms with neuropathy, a common diabetes symptom that manifests as a burning or painful discomfort in the feet or thighs.
DIAGNOSIS  — A thorough history of physical activity in patients with diabetes will frequently identify patients with Peripheral Artery Disease risk factors or preexisting PAD. However, symptoms such as leg pain, ulcer development, and functional impairments can be caused by PAD or be manifestations of diabetic neuropathy.
The ankle-brachial index (ABI) is used to diagnose Peripheral Artery Disease in patients who have an appropriate history and physical examination. The ABI is calculated by dividing the higher of the right or left arm systolic blood pressure (SBP) by the higher of the posterior tibial or dorsalis pedis systolic blood pressure (SBP) in each leg. An ABI of < 0.90 is sensitive and specific for arterial stenosis and is diagnostic for PAD, though additional testing may be required in diabetic patients.
MANAGEMENT – Patients with diabetes mellitus (DM) and peripheral artery disease (PAD) are managed similarly to patients with PAD without DM, with the goal of relieving symptoms and lowering the risk of cardiovascular disease progression and complications. This must include managing comorbid DM and other medical comorbidities, adherence to pharmacologic treatments and follow-up care, as well as the subjective values and goals of the individual patient.
Changes in risk factors — PAD and diabetes are both considered risk equivalents for coronary heart disease. We agree with major cardiovascular practice guidelines for the management of both diabetes and PAD (asymptomatic or symptomatic) that recommend secondary prevention strategies to reduce the risk of future cardiovascular events in patients with either diabetes or PAD.
To improve PAD outcomes and reduce the risk of incident cardiovascular disease, risk factor modification domains include smoking cessation, antiplatelet therapy, lipid-lowering therapy, blood pressure control, diet and exercise, and foot and lower extremity care. These risk factor modification domains are applicable to all PAD patients.
We will concentrate on data-driven practices for improving PAD and coronary heart disease outcomes in patients with comorbid DM and PAD.
-Antithrombotic therapy
-smoking cessation
-Antihypertensive therapy
— Lipid-lowering therapy
— Glycemic control
— Diet and exercise
— Diabetic foot evaluation and care
— REVASCULARIZATION
-Amputation
RECOMMENDATIONS AND SUMMARY
Diabetes mellitus (DM) patients have a higher prevalence of peripheral artery disease (PAD) than the general population. The clinical manifestations of PAD in patients with and without diabetes are largely similar. Patients with DM may be more likely to be asymptomatic or have atypical symptoms, leading to more severe disease, according to limited data. Diabetes patients are also at a higher risk of limb loss.
Our recommendations are consistent with the recommendations of the American College of Cardiology (ACC)/American Heart Association (AHA) for screening ankle-brachial index (ABI) in subjects with diabetes aged 50 to 64 years or 50 years and at least one additional risk factor for atherosclerosis. Because patients with diabetes have an increased risk of cardiac and PAD morbidity and mortality, screening patients with diabetes for PAD may be considered if therapy will be modified based on the screening test results. When symptoms do appear, there should be a low threshold for ordering vascular studies to rule out ischemia.
Diabetes is a well-known risk factor for cardiovascular disease. As a result, cardiovascular risk reduction strategies (such as smoking cessation, lipid-lowering therapy, antihypertensive therapy, glycemic control, diet, and exercise) are advised to reduce the risk of future cardiovascular events, including limb-related events.